posted by
acarlson
on
Tue, 2016-04-26 13:38
Pennsylvania Wing Civil Air Patrol
2016 Conference & Awards Banquet
20 - 22 May 2016
UPDATED 26 APRIL 2016: 
CADET POSTER CONTEST
CONFERENCE SEMINARS & EVENT DETAILS
---
---
Click to go to the Conference Webpage:  https://2016pawgconference.eventbrite.com
---
UPDATED 26 APRIL 2016
CONFERENCE SEMINARS & EVENT DETAILS
(please allow time for 5 images to load)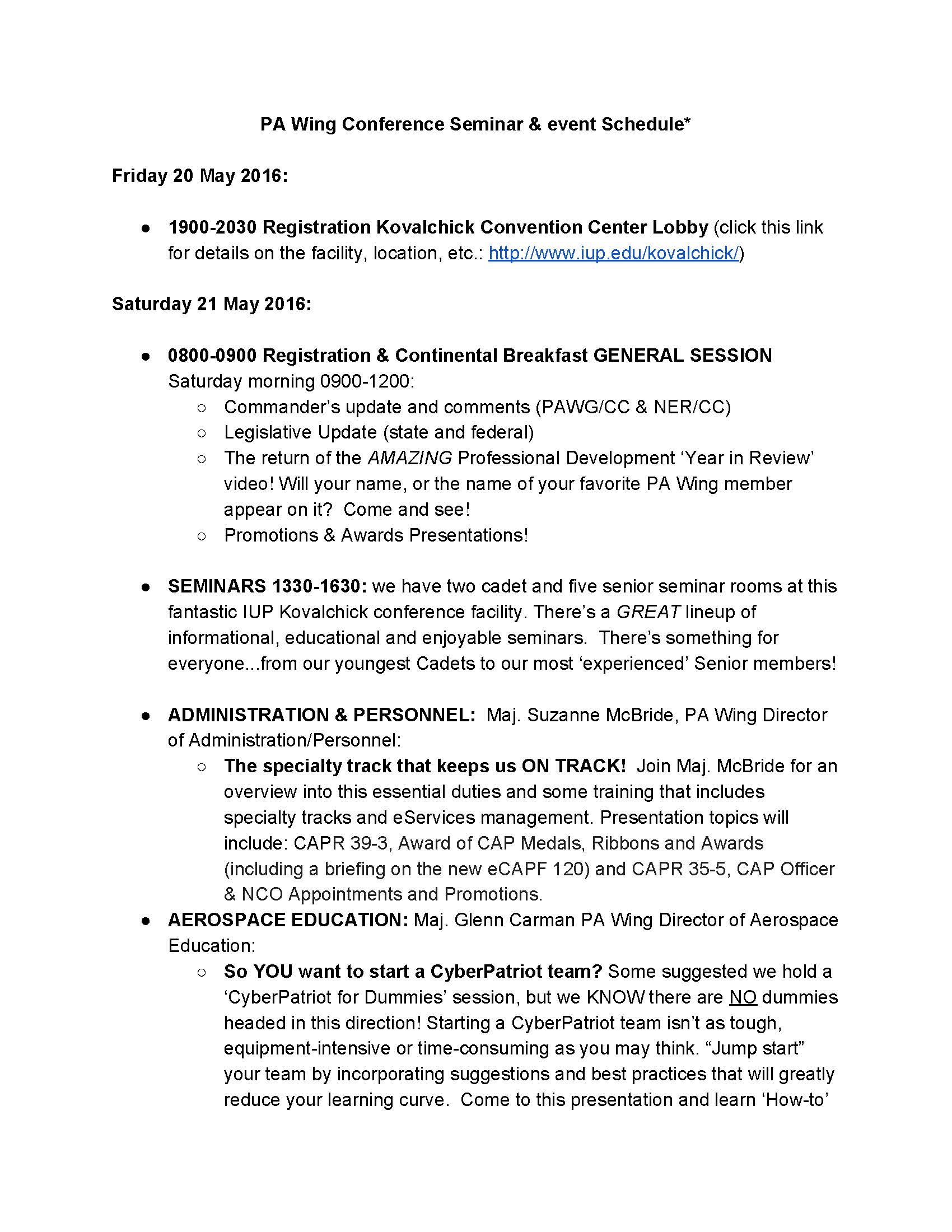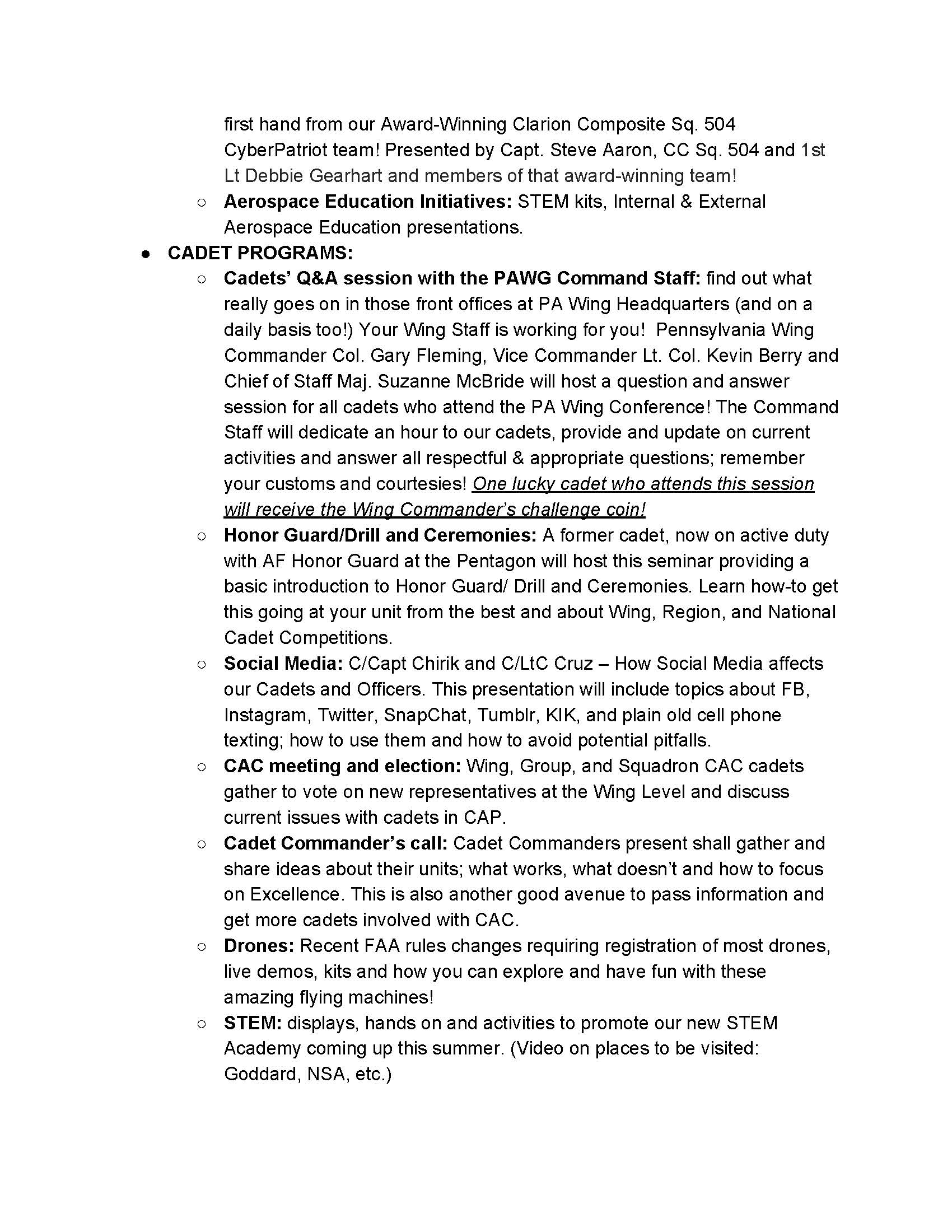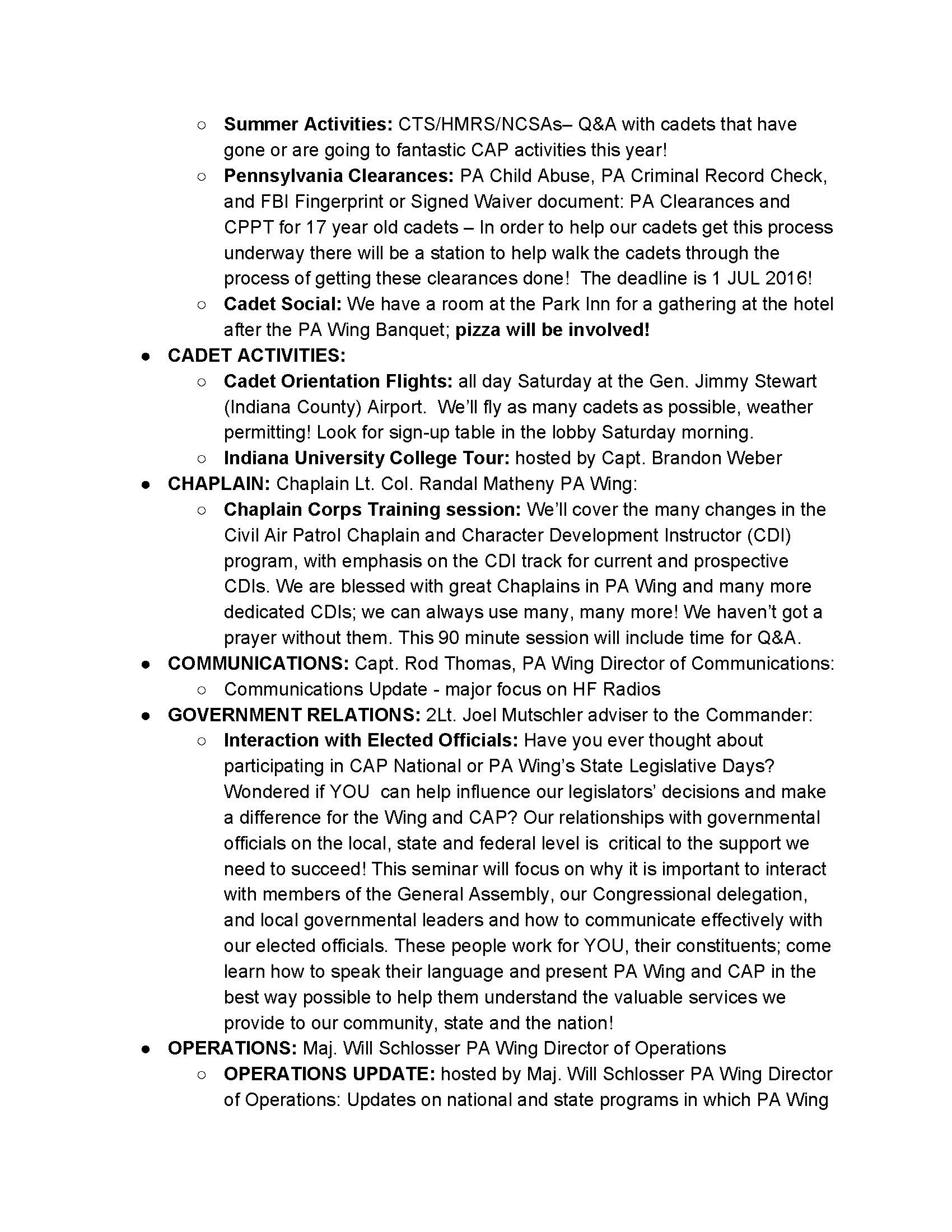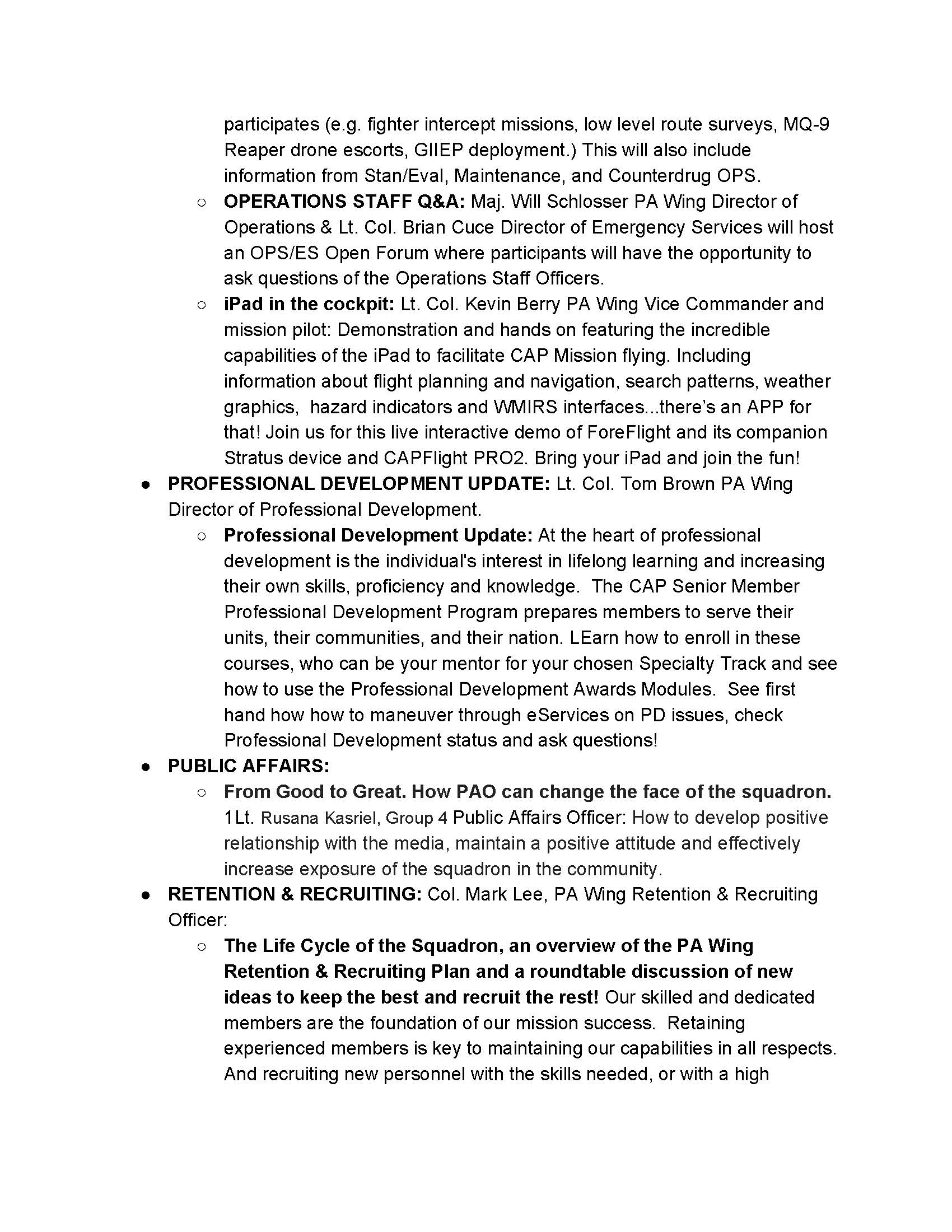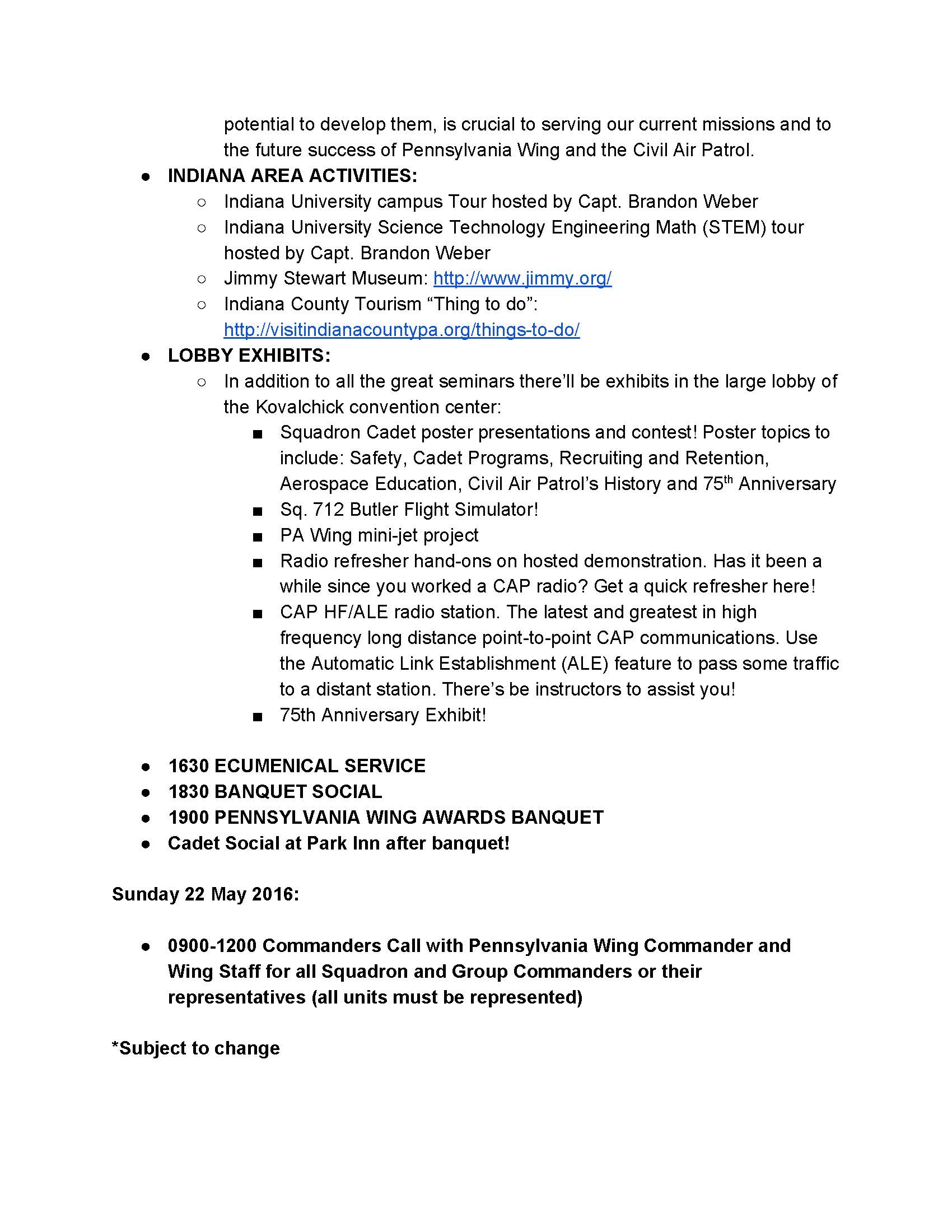 ---
THE CADET PROGRAM 
UPDATED 26 APRIL 2016
CADET POSTER CONTEST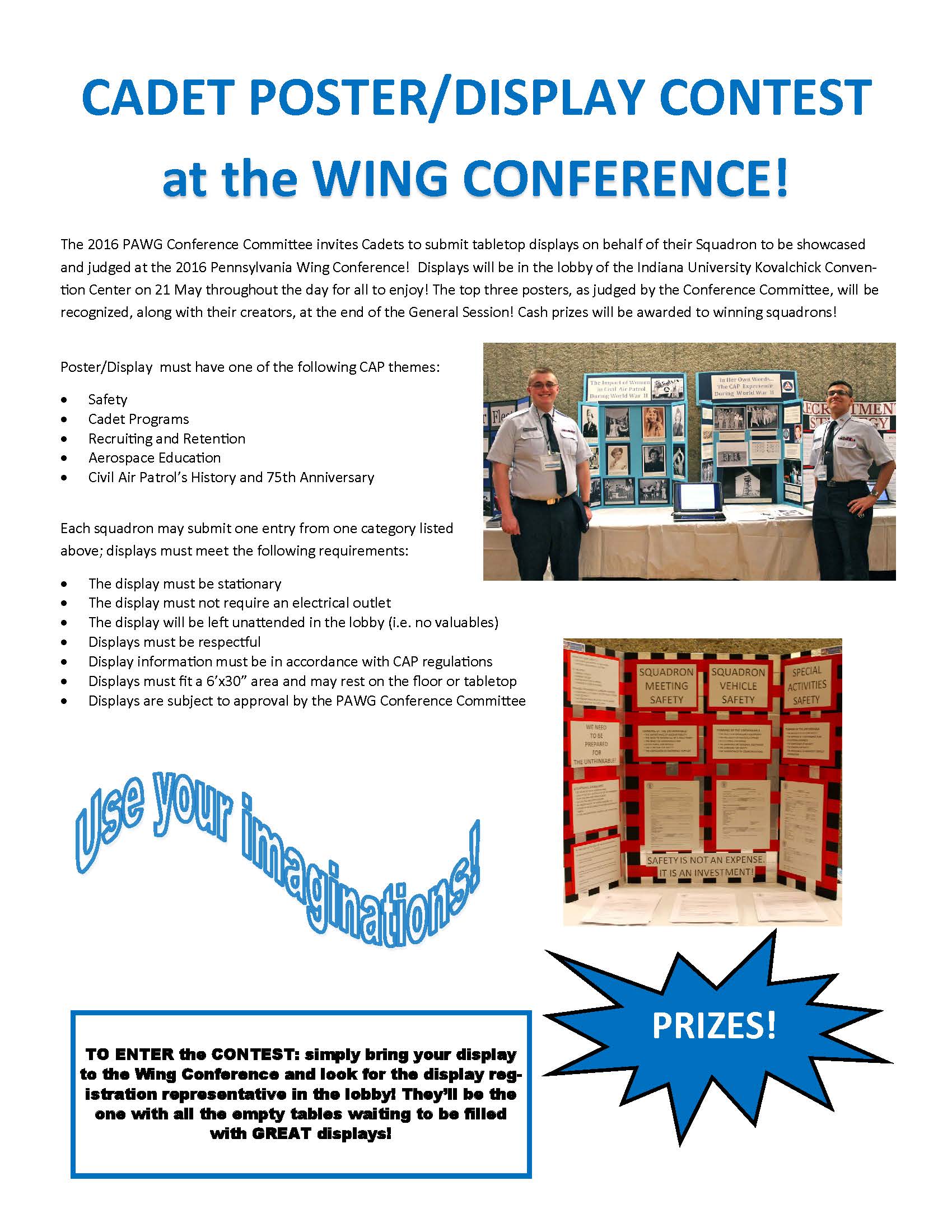 Exciting and educational cadet-specific activities are planned throughout the Wing Conference. We will provide detailed informaition regarding cadet activities as we get closer to the conference. 
All cadets in attendance must be sponsored/chaperoned by a senior member of their squadron who is present at the conference. Parents and the squadron commander must sign a permission form endorsing their attendance.
The Cadet Permission form is required and is available on the Wing Website Forms and Pubs page to download.  It's located in the middle of the page.  
Direct link to form:  TBD
Link to page: http://pawg.cap.gov/forms-and-publications
---
Come visit Indiana County, Pennsylvania
http://visitindianacountypa.org/things-to-do/
Located in the foothills of the Allegheny Mountains, just one hour east of Pittsburgh. It is home to an extensive Rails to Trails system, a variety of yearly festivals and a community of Old Order Amish families. Along with being the birthplace and childhood home of Hollywood actorJimmy Stewart, it is also known as the "Christmas Tree Capital of the World." The Indiana University of Pennsylvania, attended by over 15,000 students, is also located within Indiana County.
Shopping http://visitindianacountypa.org/things-to-do/shopping/
Jimmy Stewart Museum http://www.jimmy.org
Blairsville Underground Railroad http://www.undergroundrailroadblairsvillepa.com
Indiana University Museum www.iup.edu/museum/
Marshall House Museum www.daytonpa.org
Saltsburg Stone House Museum www.rebeccabhaddenshm.com